Communicating effectively with your tailor can help you get your best-fitting suit more quickly, and with fewer alterations along the way. Knowing exactly what you want and how to tell your tailor what you need will ensure you get it!
Going to a tailor can be intimidating, to begin with. After all, you're meeting a stranger and trusting them to know exactly what will look good on you. Of course, the best tailors will instinctively know what you want. They'll base these instincts on your current personal style, and a million other small cues they'll take note of, from creating the ideal fit for your body type to understanding which fabrics, fits and styles will work best for your unique lifestyle.
In this article, we'll cover the most common tailor terminology so you can learn how to tell your tailor what you need. This means you can start to bridge the gap between you and your tailor and create your ideal suit.
Speak up
If you're meeting a tailor for the first time, be sure to be (respectfully) vocal about what you want. Your tailor can't read your mind, even though it might seem so sometimes! Stay true to your personal style. If your tailor is suggesting a style you have tried before that you know you don't like, politely tell them so.

Most practised tailors won't suggest you try something wild the first time they meet you. The relationship you cultivate with your tailor will deepen over time, and as it does, they'll be able to suggest new trends, fits or fabrics they think might suit your personal tastes that might be more outside the box.
Don't be afraid to provide feedback on the fit of your garments. You don't want to walk away with a poorly-fitting suit jacket or pants that are hiking up uncomfortably in certain areas. It may take a couple of fittings to get your suit just right, especially when you're working with a new tailor. Understand that it's a process that requires a little patience.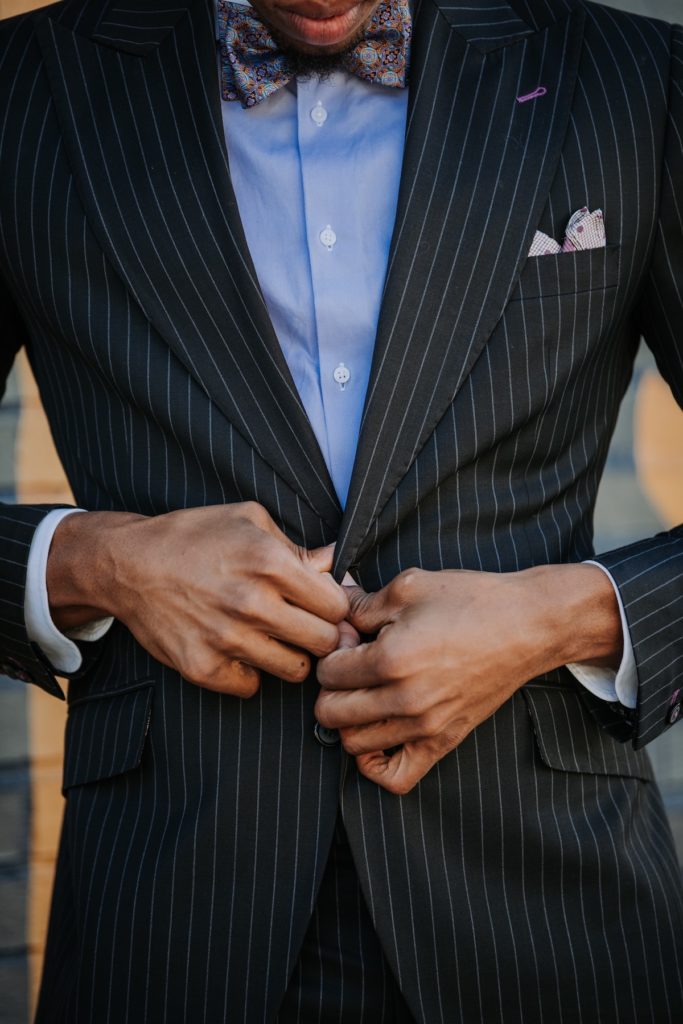 Be respectful
In the same token, when considering how to tell your tailor what you need, understand that you need to be respectful, even if you might think the style your tailor is suggesting is outdated or doesn't suit you. If you're working with a new tailor, chances are they're doing their best to get you exactly what you need, so be polite, while staying true to who you are. 
Your tailor should have a good understanding of new trends, styles and fits, and should educate you accordingly, guiding you without pushing certain styles on you that you aren't comfortable with. Don't let your tailor dictate your personal style but at the same time, be open. Understand that they might have a better idea than you about what's trending, however, that's not to say that you have to follow their advice to the letter. Crafting a beautiful suit should be a combined effort.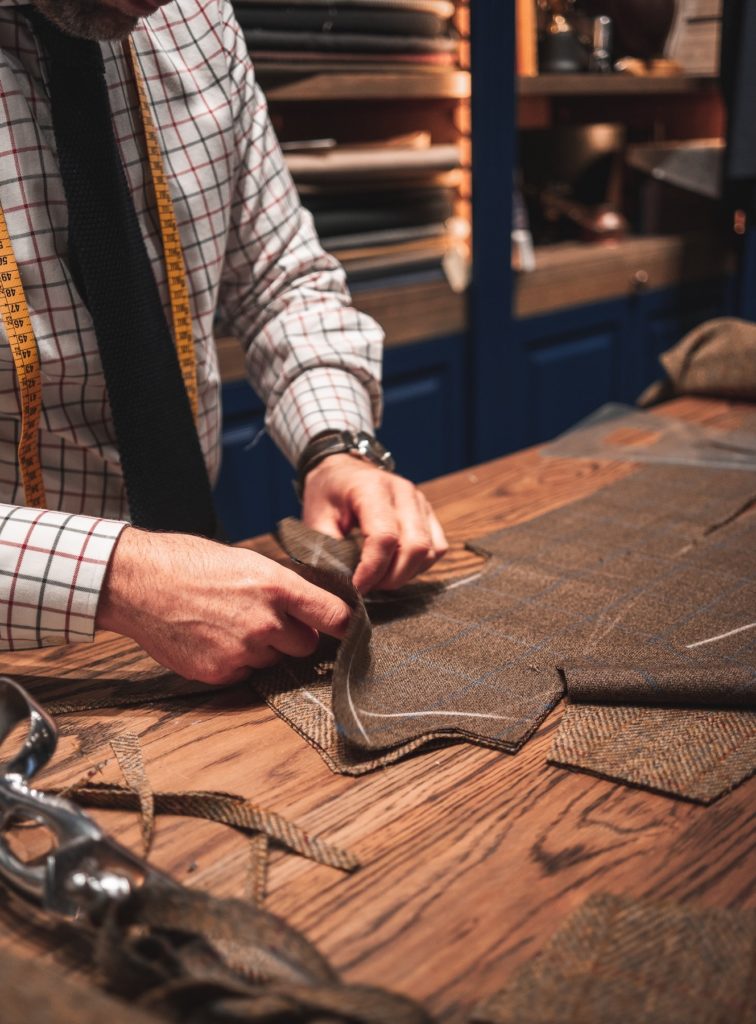 Be prepared
It can be difficult learning how to tell your tailor what you need, so why not use images instead? Start saving style images that you like on Instagram or Pinterest and use these photos to communicate what you're looking for. This can often be far easier to explain what you're looking for, rather than using ambiguous terms or confusing tailor terminology to describe a certain lapel style or a colour.
Think about the last garments you bought and consider what you liked (or didn't like) about them. Consider the fit and how (or if) it could be improved.
Ask questions
During a fitting, your tailor can throw out a lot of strange tailor terminology that you might not understand. Ask questions, discover what it all means and learn what can or can't be altered once you order your suit. Clarifying anything you don't understand will eliminate the chances of miscommunication.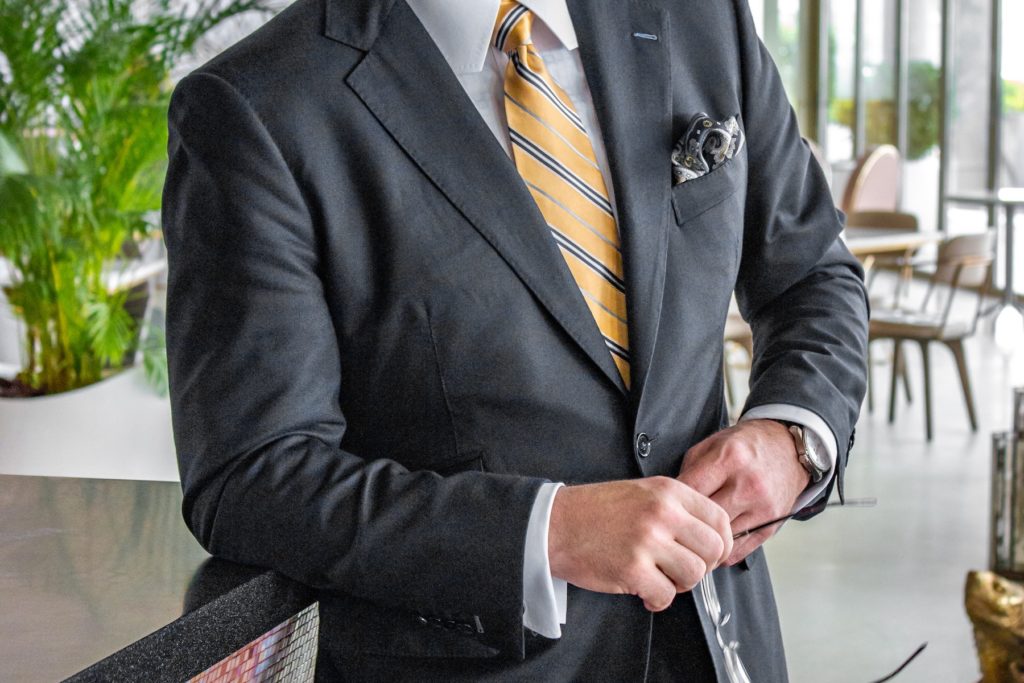 Be honest
The most important aspect when considering how to tell your tailor what you need is to be honest; with yourself and with your tailor. The more open and honest you are about what you want, the more likely it is that you'll be happy with the final result of your garment. 
Overall, a sophisticated, perfectly-fitted suit is the product of teamwork. That means knowing how to tell your tailor what you need and working together as a team. Although it's not as easy as going to grab an off-the-rack suit, you'll be rewarded with the perfect fit; a custom-tailored garment that fits you like a glove.
Once your tailor has your measurements and has perfected your first suit, the process will be even easier each time. Your tailor will have an intimate understanding of your fit, your style preferences and your lifestyle, and will be able to cater more specifically to your needs.
For more style advice, head to our blog archives. To start creating your ultimate custom made business suit, or tailored wedding suit and more, contact us to speak to one of our tailors today.