Wearing the same suits every day can start to feel stale after a while. And although the suit silhouette seems to have barely changed over the years, designers are constantly making tiny tweaks in its shape, fabric makeup and design to keep it fresh. Luckily, in today's world, there are endless styling options. Knowing how to wear a suit in new, modern ways is your key to styling success at work or play.
Your ability to deviate in the style stakes from every other Tom, Dick and Harry on your train carriage will help you stand out from the rest and will break up the visual monotony of your day. Keep reading to find out how to wear a suit your way.
Mix & Match
Suit separates are a great way to style your suit, especially if you're used to mixing and matching existing combinations. However, even if you know how to wear a suit they can prove difficult to style, particularly if you're trying to cram too many variations on fabric, colour and pattern into the one ensemble.
Firstly, chose separates which complement each other; avoid wearing different shades of grey or grey and brown, unless you're a seasoned sartorial stylist! If you have a checked pant, for instance, match this with a plainer suit jacket and shirt. Alternatively, if you have a bold, pinstriped blazer, wear a trouser in one single colour and a simple white or blue shirt or roll-neck knit underneath. You can then add interest with accessories.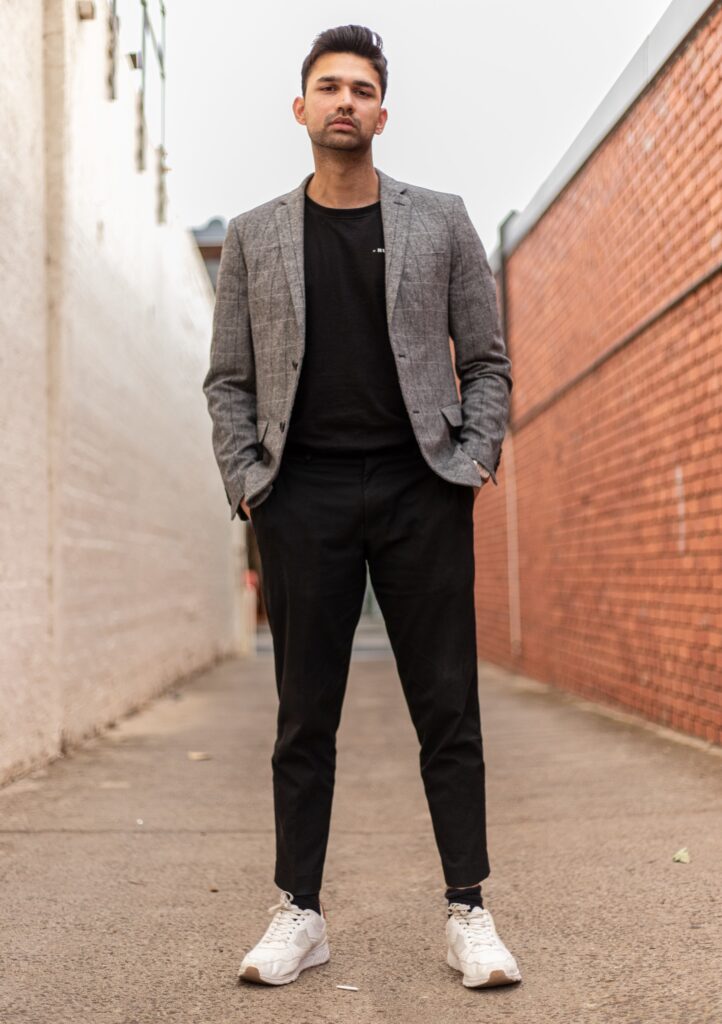 Layer it Up
To up the style stakes in winter, experiment with a gilet, vest or even a three-piece suit. Not only are layers helpful for changing weather, they can also add different dimensions to your outfit and help your look feel more dynamic.
In colder climates, you could also layer a thin, cashmere knit in a bold colour like wine red or navy. Or layer up with different scarf styles; add a thick woollen scarf, a coloured scarf or a thinner, longer style which can be wrapped around for warmth.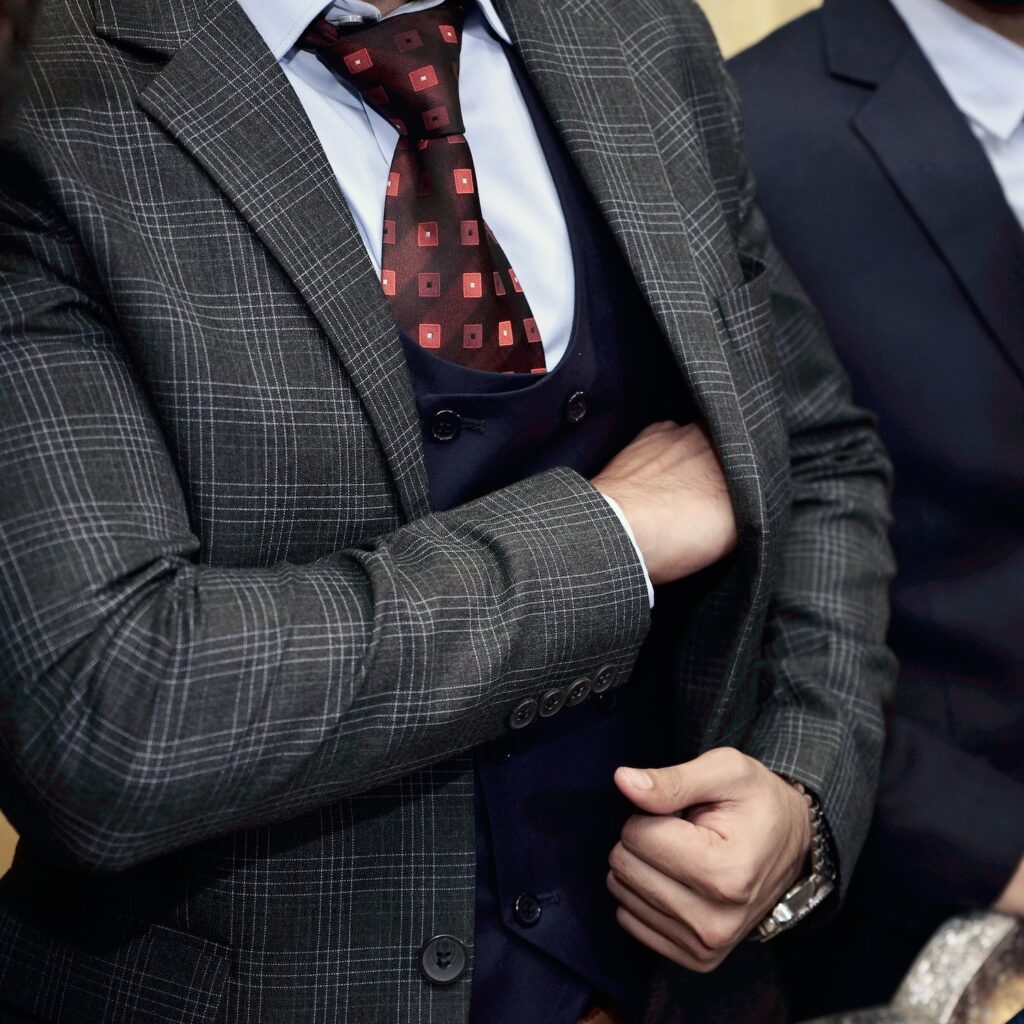 How to Wear a Suit Casually
Casual suit styling is having a big moment in the modern world, especially as many of us transition back to the office from remote work arrangements. But if you're unsure how to wear a suit casually, your best bet it to start at the ground and work your way up.
Sneakers are a great way to dress down your suit on a Friday or if you're going to casual after-work drinks. Keep the sneakers slim, crisp and clean; pure white simple sneakers or black Converse chucks are both great options. Chunky or multicoloured varieties can be too bold to pair with a suit and are better left for the weekend. Lose the tie to complete the look.
You could also try losing the suit jacket and instead add a blazer, sports jacket or even a light cardigan for a more casual look. Unstructured suits are another option. Opt for suits with soft tailoring with an unpadded shoulder. Linen suits are great for summer and provide a far more casual look, perfect for day events. Just be sure your fit looks relaxed without looking baggy.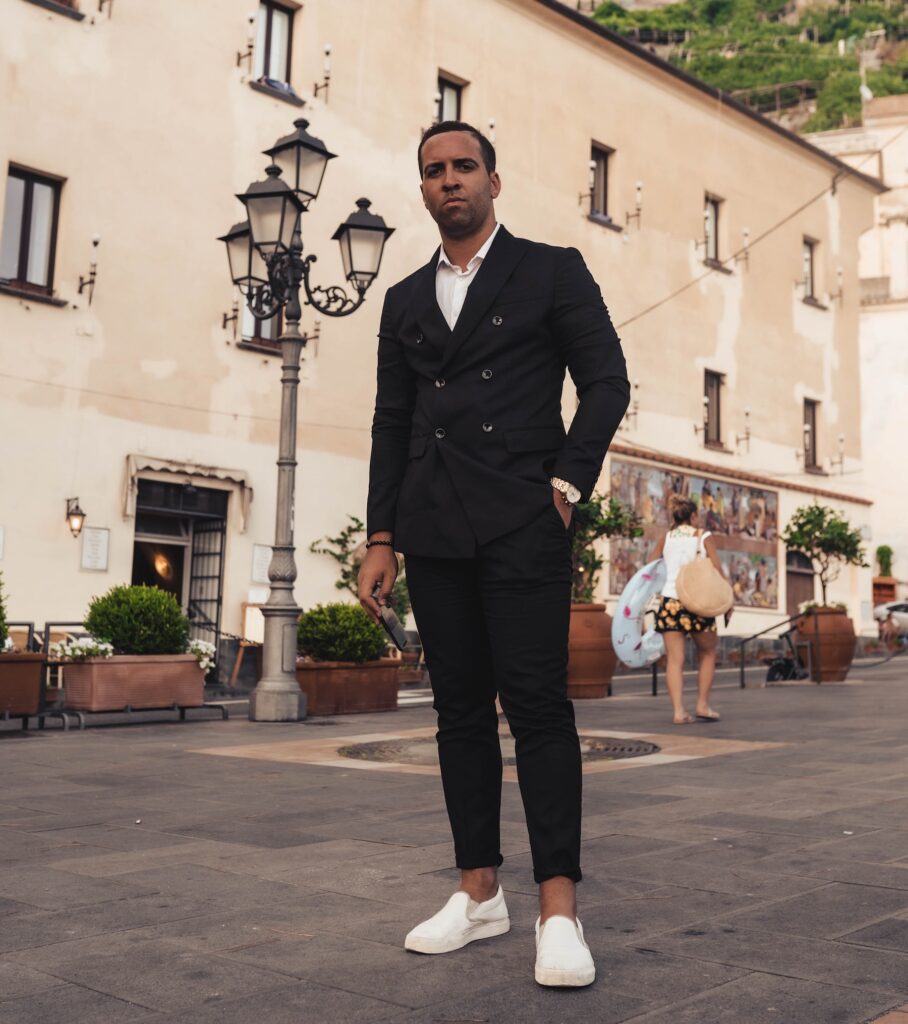 Accessories for Days
The easiest way by far to spice up the style stakes is with accessories. By simply swapping out a tie, pocket square or shoes, you can create an unforgettable look. That said if you're not used to mixing and matching colour combinations, proceed with caution and dress for the occasion. There's a reason we don't all wear bright yellow silly ties to a sombre board meeting.
For ties and pocket squares, keep it classy with rich tones like emerald green, red, purple or blue. Yellow and orange can be great for a day at the races or for fun Friday attire. Or mix up texture with a knotted or cotton tie instead of silk.
Looking for more style advice? For more tips and tricks on how to wear a suit in today's work, check out the rest of our blog. Or if you'd like to discuss how we can add value to your wardrobe, contact us today for a style consultation.