When it comes to the changing of the seasons it can be difficult to know which outfits are best for the day's weather conditions without layering up and becoming a hot mess under suits, shirts and scarves. Fortunately, men's clothing styles have evolved over the years, and now you can easily master trans-seasonal dressing without getting a headache.
Sydney can play host to unpredictable weather, to say the least; you might experience cold, warm and windy weather all in one day. Unfortunately, you still need to look the part, no matter what the weather is doing.
So how does one navigate the world of trans-seasonal dressing and achieve sartorial elegance without getting swamped in dozens of bulky layers?
Trans-seasonal dressing basics
A few carefully considered staples will keep you looking fresh through the fiddly fashion seasons like early spring and autumn.
Try a few simple pieces with one or two stand-out accessories, as you don't know what you'll end up taking off throughout the day There's no point wearing your statement coat in trans-seasonal weather. Instead, make a bold statement with accessories.
In-between seasons usually consist of colder mornings with sunny days and colder evenings. Instead of carrying bulky coats which you're likely to remove, the key is having light, yet warm layers in smart fabrics.
Our tip: If you want to freshen up your wardrobe in-between seasons, try adding new accessories. A new pair of work shoes or some fresh shades can go a long way into changing up your style without having to feel like you need to buy a whole new wardrobe.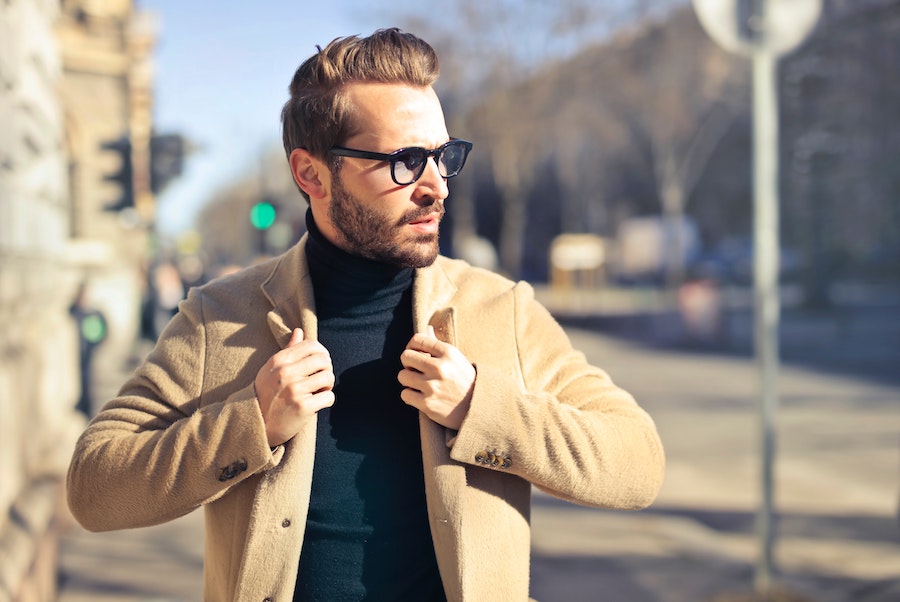 Know your fabrics
Trans-seasonal dressing is about doing more with less. That means smart fabric choices. With a few well-selected pieces, you can ensure you'll be warm in any weather.
Layer up with thin knits made from merino wool or wool-and-cashmere blends. These breathable knits will ensure you keep warm, yet won't feel bulky under an overcoat or jacket. They are hard-working natural fabrics which tend to acclimatise to different temperatures, so you won't get too hot.
A scarf is an obvious choice for warmth, but ensure it is made of a warm fabric like wool, otherwise it won't actually offer much protection against the cold.
Your suit fabric is also important in the in-between seasons. Ideally, you should have suits with a heavier fabric density and a higher ratio of wool for the cooler months. And while wool is known for being breathable, as the weather heats up, you'll definitely want to rotate them out for those forty-degree days.
Our tip: Know what fabrics your suits are made of and what the fabric weights are and speak to your tailor about investing suits for different seasons. This can ensure you get the maximum wear out of your suits, no matter the season.
Read more about how to make your suits last longer here.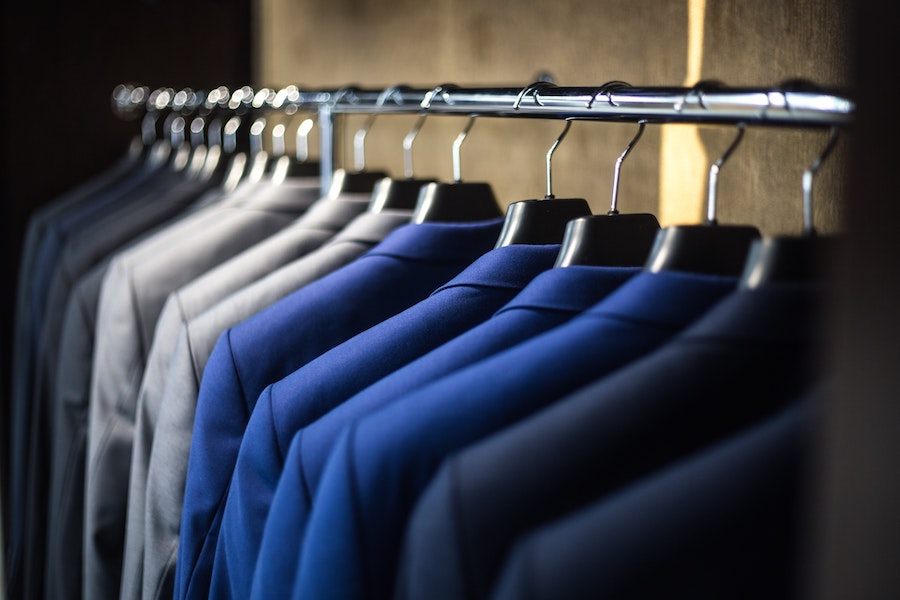 Colour choices
Men's clothing styles are thankfully offering more and more colour, which is great for the stylishly flamboyant among us. But colour can freshen up even the safest dressers' style palettes in surprisingly subtle ways.
Trans-seasonal dressing embraces both bright and dark colours, with a nod to both cold and warm seasons. In the in-between seasons, embrace reds and blues, and start to ramp up your colour palette with brighter shirts and ties.
Our Tip: Pair a cool light grey suit with a lighter shirt and darker accessories to capture the best of both seasons. Alternatively, pair a bright tie with darker suits.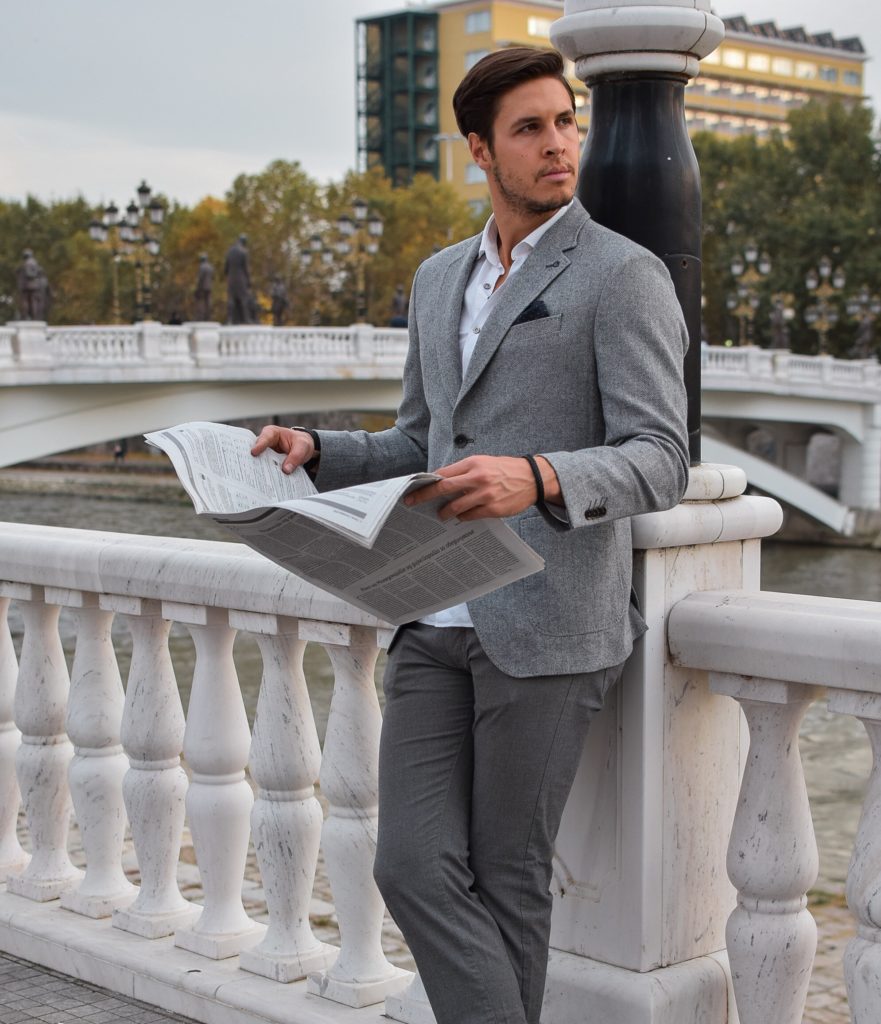 Trans-seasonal tailoring
What about when it comes to work look? Layering can definitely still lend a hand. Not only does layering help you battle it out against the seasons, but it also adds an extra dimension to your outfit.
Instead of opting for the heavy winter topcoat, try layering a twill vest underneath your jacket, or a thin V-neck sweater. This will give you extra warmth with the option to remove it later in the day.
Invest in a light wool blazer or a sports jacket for a stylishly warm business casual outfit that will always look good.
Our tip: Try to invest in shoes that will go the distance. Instead of buying new ones each season, check your shoes for cracks and holes and get them re-soled.
Casual men's clothing styles
For more casual trans-seasonal dressing, a leather jacket with a light t-shirt is a great option for suspicious weather. It radiates a cool charm and has enough warmth for chilly weather, yet won't be too heavy especially with thinner layers underneath.
A denim jacket or outer-shirt is another classic option. It's made of cotton which is breathable, and outer-shirts can be easily removed when the weather turns it on. Corduroy and cotton are also great options which won't leave you too hot when there's only a slight chill.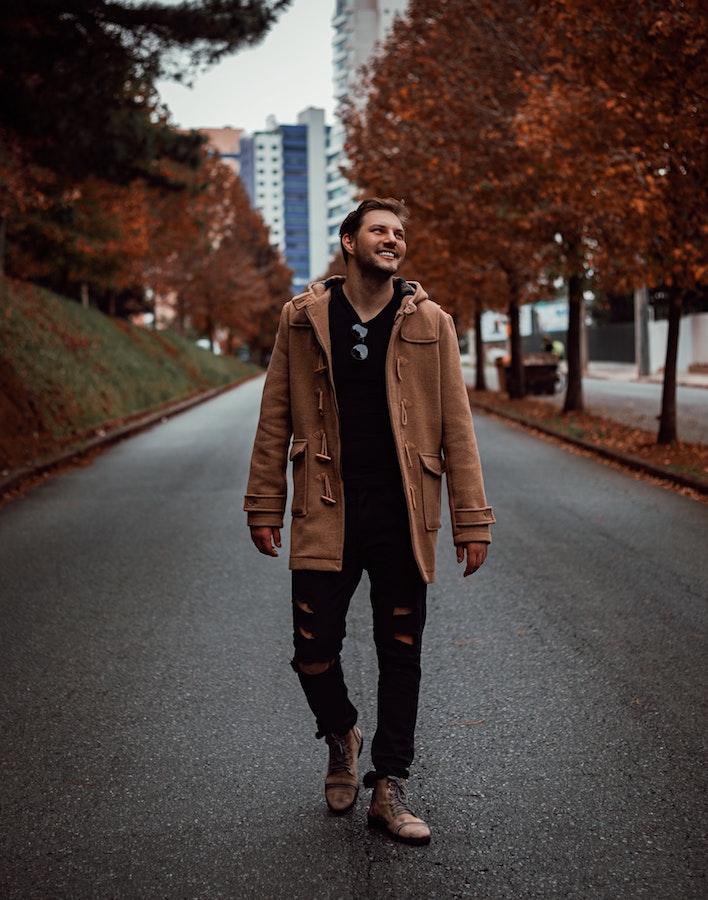 Our tip: Mid-wash denim is your friend in the in-between-seasons. It won't look too summery but doesn't have the seriousness of dark denim, and it can be worn all year round.
Need more tips on trans-seasonal dressing? If you want your suit to last from winter to summer and all seasons in between, get in touch with one of our experienced tailors today by clicking here.