You've got your suit style nailed; well done. But what do you wear on casual Fridays, or when you receive a conference invitation with the ambiguous dress code which reads; "business casual"? What exactly is business casual for men, and how do you pull it off without looking like a strange cross between Mark Zuckerberg and Harvey Specter?
Sitting somewhere between a suit and tie, and jeans and a t-shirt, casual business attire has the ability to confuse even the best-dressed chaps. It's different for every event and in every workplace, and understanding the subtle differences between "business" and "business casual" can be confusing to say the least.
So, how can you achieve a business casual look with ease?
The origins of business casual
Business casual was born in Silicon Valley in the 80s. It started off with Casual Fridays. This attempt at inclusivity was a day where everyone could wear what they wanted, regardless of their position or rank within the company.
It was representative of the changing face of work, which was increasingly being measured by output, not input. Image was becoming less important. Rather, people were embracing a more relaxed attitude to work and spending more time in front of computer screens and less time in front of clients.
What are you dressing for?
Now, business casual is different everywhere. First of all, you'll need to consider what you're dressing for. Common sense should prevail here.
Are you simply looking for a more casual Friday look? Or do you need an ensemble for an event? Keep in mind that if your workplace is doing a "casual" Friday but every other day requires you wearing a 3-piece suit and tie, it's not really going to be as casual as weekend drinks with your mates.
Take into consideration what you'll be doing that day. Will you be attending a client event, or work conference where you will be presenting? Will you be going to a fancy restaurant for lunch? If so, you might want to go on the dressier side of "business casual".
On the other hand, if you're going to be running around the office doing team building activities, you might want to dress more casually. Take cues from those around you. And by that we mean upper management, not Jimmy, the office junior, who wears shorts and sneakers every day.
Business casual attire in the corporate world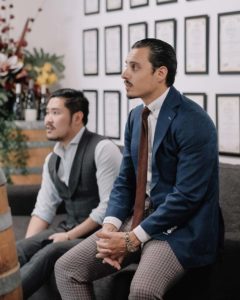 If you work in a law firm, bank, or are otherwise working in the corporate world where you would normally wear a suit and tie, business casual attire will be more formal, generally consisting of a blazer or sports coat, trousers and a long-sleeved button-down shirt.
In terms of your shirt, if the norm is to wear blue, white, fine striped or other plainer shirt styles, follow the same pattern when wearing business casual attire, unless you are going to an event like the races. Neckwear is generally optional, depending on the occasion. Shoes are a whole other topic, but generally, aim for oxfords, derby-style shoes or monk strap shoes in brown, black, burgundy or oxblood. Loafers can be worn for the races, or other more casual work events.
A more relaxed pant like chinos or corduroy pants are appropriate too, but if you do choose to wear them, opt for a dressier blazer in a luxury cut or fabric to elevate your look. Similarly, if you're wearing a blazer in a loud colour, pair it back with more neutral bottoms. Accessories are optional depending on where you're going, and how much effort you're willing to put in!
Business casual in start-ups, casual or creative workplaces
If you're working in a more creative industry, a start-up or other creative workplace where more casual and creative dressing is embraced, you can have a little more fun with business casual attire.
Perhaps you don't normally wear a suit and tie at all, and business casual is the norm. Again, take cues from what you're actually doing that day. If you're just starting out, better to be the one wearing a suit or sports jacket and dress pants than the one wearing jeans and sneakers when you're dragged in to that client meeting they forgot to tell you about.
If you're in this kind of role though, business casual usually allows for more fun shirt styles and patterns, interesting blazers with a variety of colours and fabrics, and coloured chinos or blazers.
To keep things classy, no matter what you wear, ensure that it always looks polished. Iron your shirts, tuck them in, ensure your pants are lint-free. This can be a game changer and can mean you'll be forgiven for wearing a less casual look.
To instantly level-up your outfit, just add a blazer or sports jacket. The combination of sleek material and strong, powerful shoulders in the tailored blazer shape commands attention, making for an instantly sharp look. This should be your go-to every time you are leading a meeting or giving a presentation.
In these industries, loafers should be appropriate unless you have a dressier event on. In some workplaces, boots or sneakers can even work, but it's better to go with "dressier sneakers" such as dark leather styles with a white sole; and please- no enormous logos or bright-coloured stitching.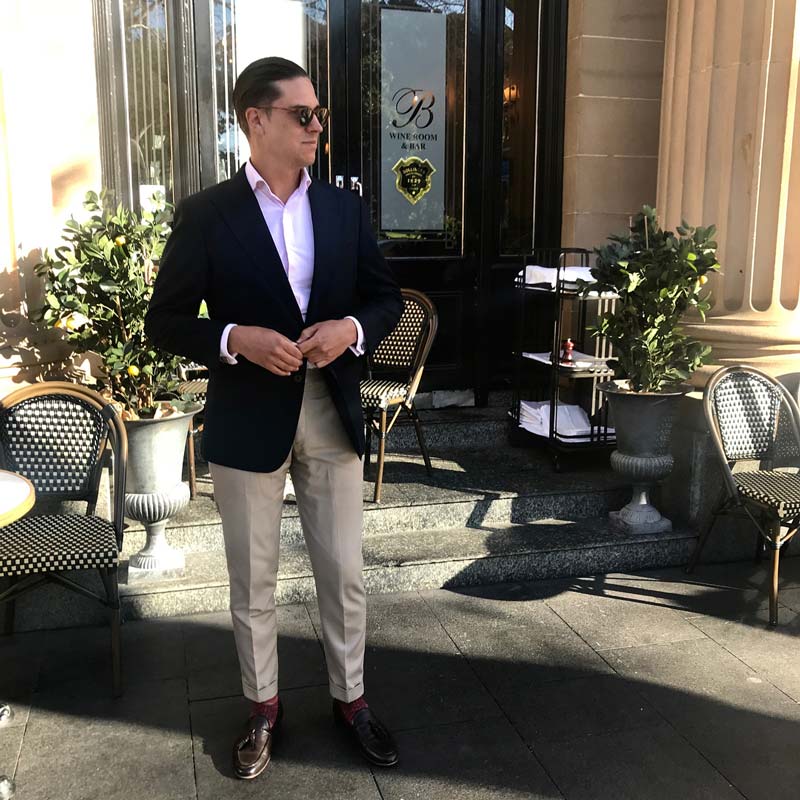 Exceptions to the rule
Common sense should prevail when it comes time to think about casual business attire. Consider what you will be doing at work; whether that is team building exercises, client meetings or out-of-work events.
If you're going to the races for work, or any other event, check the dress code of the event itself beforehand.
What is your business casual style? We've got a range of sports jackets and trouser combinations and can assist when it comes to your business casual style dilemmas. Contact us today for style advice, or click here to find out about our process.