Two little words stand out on your invitation: Black Tie. But what does a black tie dress code for men actually mean, apart from saying; "this is a fancy party"?
Black tie events require a mastery of fashion. This close attention to subtle details and strict fashion etiquette can be daunting, even for the suavest dressers among us. Why? Because most of us aren't James Bond, and don't have a wedding, ball or secret mission every other day. We're just out there with a suit and tie, doing our thing.
What is a black tie dress code for men?
Black tie is a dress code that generally refers to formal events after 7pm and is likely to be the most formal dress code you'll ever have to abide by (unless you're a member of a royal family or off to galas every other week).
The truth is; black tie for men isn't hard to do, but, much the same as the classic suit and tie, the secret to doing it well is in the details; a perfectly shined shoe, the perfect fit, and high-quality pieces put together seamlessly. Black tie for men has only changed subtly over the decades. In essence it remains the same, apart from the occasional red-carpet high fashion moments (which are, nonetheless, often bold and ballsy).
Black tie for men generally means a tuxedo comprised of a dinner jacket; often black (or more recently, a deep midnight blue), trousers, formal white shirt, an optional waistcoat or cummerbund, bow tie and formal black shoes.
Where did black tie come from?
The tuxedo originated in the 1860's in London when trendsetter Prince Edward VII adopted the shorter jacket version of the longer tailcoat (the old suit and tie), often worn at the time.
It was created by Savile Row tailor Henry Poole, who fashioned a jacket for the Prince more formal than a lounge suit, yet with all the trimmings of a tailcoat. It was called a tuxedo. The men of the British upper class quickly caught onto the trend, and soon it was taking the U.S. by storm.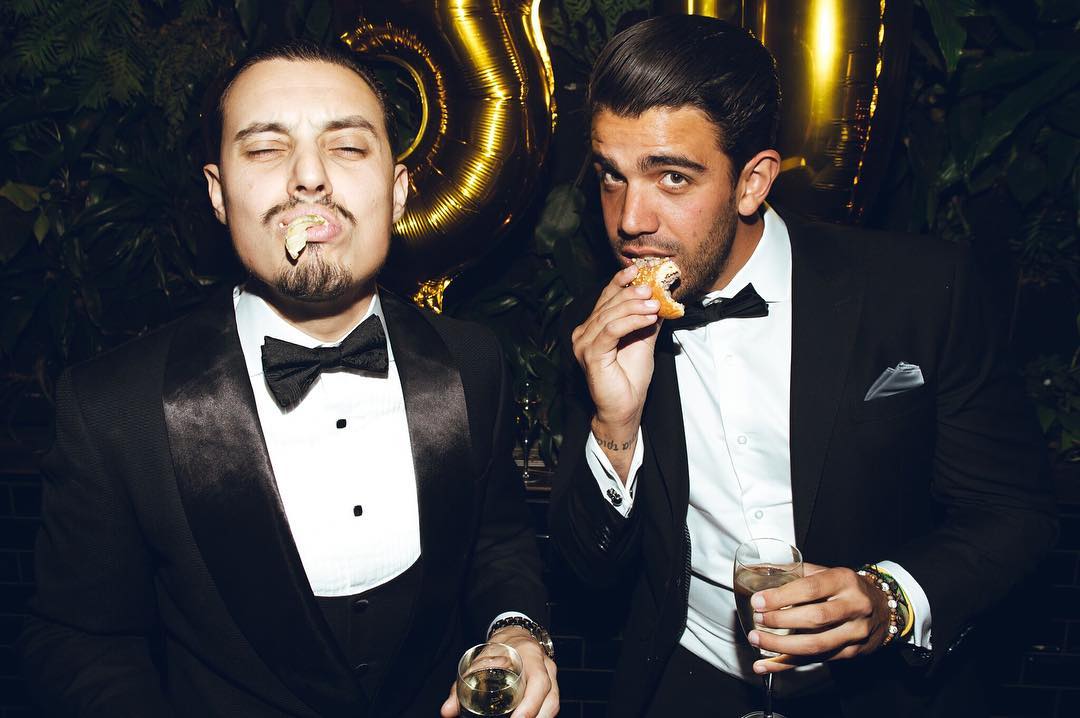 How to master a black tie dress code for men
You may not be a Prince (hey, there's still time) but you can dress like one. Get the following style elements right, and you'll have mastered the black tie dress code for men, and getting ready for your next black-tie event will be that much easier.
The jacket
A polished jacket can really make or break your black tie look.
A classic black dinner jacket is usually the norm, however, as per a regular suit and tie look, recent variations include burgundy, deep midnight blue, emerald green, white or even black. As tempting as it can be to defy tradition (you rebel, you), if it's your first time doing black tie proceed carefully and remember; subtlety is key and can sometimes look better than being outlandish. Proceed with originality without being reckless.
Your jacket should be wool or velvet with satin or grosgrain lapels. A peak lapel can make your shoulders look broader and more masculine, while a shawl lapel can look more polished.
The trousers
Keep it simple with black fitted (yet slim) trousers, with a braid down the leg. Nothing too clingy, and if your trousers are too loose at the top, you can always opt for the subtle old school white braces look.
Dress shirt
Choose a classic white dress shirt for your black tie look. This is definitely not an occasion to skimp on quality. The dress shirt is traditionally pleated, with holes for cuff links. From there you might want to opt for a cummerbund or waistcoat. A shirt with black buttons can spice up a more classic look.
Accessories
A bow tie is a must for black tie events but a clip-on is a big fat no no, unless you're sitting at the kids table. The bow tie is traditionally black but if you're a sartorial genius you might want to opt for coloured variations in subtle colours.
Shoes should be formal and always black. Ideally, they're formal black patent dress shoes; sleeker than your regular going out shoes and not brogues.
Complete the look with cufflinks, and you're good to go.
Black tie event coming up? For more style tips, book your free personalised consultation with us today.